Bangs have long been at the forefront of hairdressing trends. However, they only work if they are trimmed regularly. So how can you shorten your mane if a visit to the stylist is not an option? Check it out!
In this pandemic, going to the hairdresser's is not always easy. And while all salons are still open, many women consciously forego this pleasure out of concern for their health. As long as you have long hair, postponing a visit to the hair stylist is not a problem. However, there is a problem if you have grown out your bangs and don't want to grow them out. What to do then? Well, take matters into your own hands and cut it yourself.
How to cut your own fringe?
Where do you start? By preparing a comb and some clips. Of course, you'll also need scissors when trimming your fringe. Do you own a hairdresser's model? You're in luck. However, if all you see in your drawer is a pair of paper scissors, don't worry.
What's next? The next step is to wet your fringe and divide it horizontally into two parts . Then shorten the lower part. Be careful not to get too carried away and cut as short as possible at first. If you find your hair too long you can always shorten it again by a few millimeters. The "go back" option is unfortunately not available here. Now the bottom layer is ready? Now move on to the top layer.
You should be aware that horizontal cutting is the worst choice. A horizontal fringe cut will have a more desirable effect. Specialists also advise to shorten the middle first, and then move to the outer sides. It will also be a good idea to undercut the right side combed to the left and vice versa. Twisting individual strands of hair and then trimming the prepared strands also works well.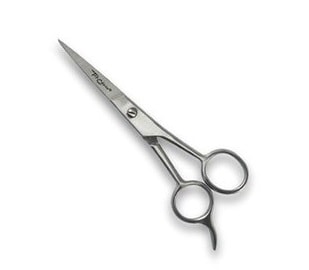 Read also: Thermocut – what is this revolutionary haircutting method all about?
Leave a comment