Micellar water, also called micellar liquid, is an excellent cosmetic for cleansing the skin. What to suggest when buying it?
Still several years ago micellar water was not very popular. Ladies usually chose milk to remove makeup. Now it has changed and both cosmetics are equally popular
What is micellar water?
Micellar water is a solution that contains micelles, i.e. microscopic balls with amphiphilic properties. What does this mean? The inner micelle particles repel water and bind with fats, and the outer micelle particles attract water and repel fats. This makes these globules, imperceptible to the naked eye, act like a magnet for impurities on our face. They attract excess sebum, grease, dust and makeup (even waterproof cosmetics).
Another advantage of micellar water is that it very rarely causes irritation. This cosmetic is delicate for the skin, so even allergy sufferers can use it. Additionally, it does not leave a greasy film on the face, as in case of using milk for make-up removal
Which micellar water should I choose?
You can find several or even dozen of different micellar waters in every drugstore. So what should we suggest while shopping? It is certainly worth to pay attention not so much to the price of the cosmetic but to its composition. It would be best if the liquid was enriched with numerous substances that support skin cleansing and improve its condition. If we have dry skin, it is worth that the micellar water contains strongly moisturizing hyaluronic acid. If we want the product to soothe and calm, it is worth checking whether it contains d-panthenol (pro-vitamin B5), which additionally helps the skin to regenerate. In case of inflammation, it is good to use water with mannitol, because this ingredient reduces cell damage and prevents inflammatory processes and reduces free radicals
Currently, cosmetics with plant extracts are becoming increasingly popular among conscious consumers. These fully natural additives have a beneficial effect on the condition of our skin. In case of micellar lotions it is good to find there e.g. moisturizing and vitality improving extracts from cucumber, orchid or hollyhock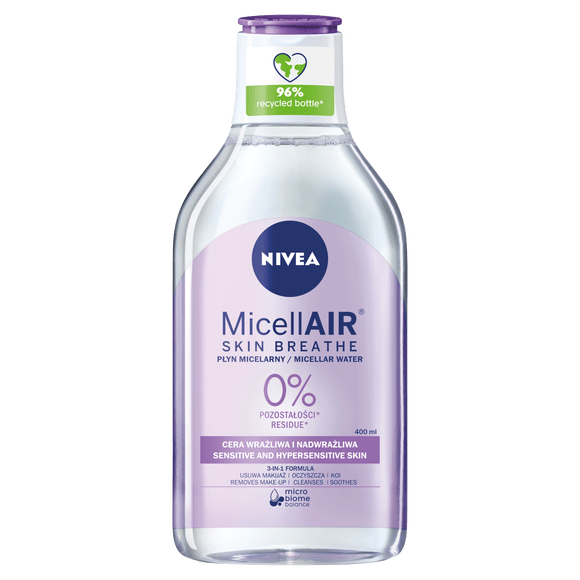 The cosmetic should be selected individually
When buying a micellar lotion, it is crucial to choose the one intended for your skin type. Thanks to that the effects of its use will be much more satisfactory. You can find on the market water for oily, normal, combination or dry skin. Choosing the right one you can be sure that the cosmetic moisturizes your skin and reduces the work of sebaceous glands.
In the case of couperose skin the best solution will be a lotion, which not only cleans, but also shrinks dilated capillaries and reduces redness. People with particularly delicate skin should use micellar water for atopic or allergic skin.
How to use micellar water?
Using micellar water is very simple. Just dip a cotton pad in it and wash your skin. You do not have to, and even should not, rub your skin hard. In case of removing eye make-up, it is enough to put it to the eyelid and wait a few seconds. The micelles themselves will attract cosmetics and other dirt.
Wash your face until the so-called clean swab, that is until the used swab does not get dirty.
Can everyone use a micellar lotion?
Micellar lotion is suitable for all skin types as it does not contain any dyes or fragrances. In case of allergy sufferers, it is a good choice to buy a cosmetic dedicated to them. Then you can be sure that additional ingredients will have a soothing effect on your complexion. Micellar water works great for both mature and very young skin.
Read also: Bacuchiol is an alternative to retinol and a current hit in skincare
Main Photo: mellisandra/ adobestock.com
Leave a comment